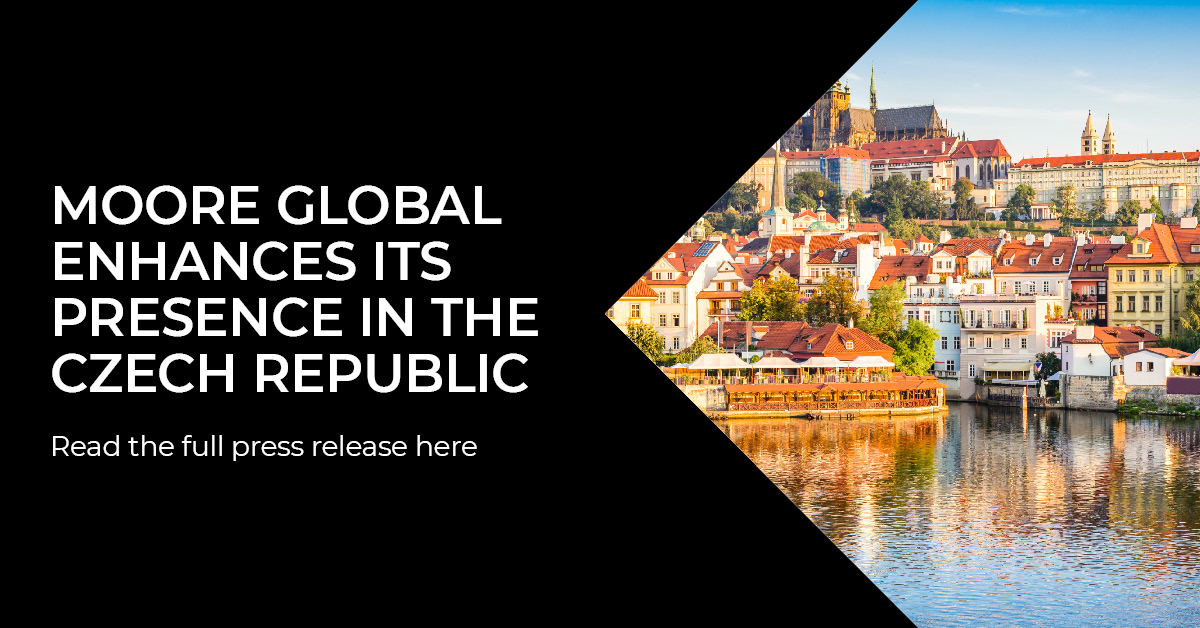 The former BDO Advisory Czech Republic firm has joined Moore Global, one of the world's leading accountancy and advisory networks. Membership is effective as of 1 January 2020. The firm has moved to the network brand and will trade as Moore.
Led by Petr Kymlicka and Radovan Hauk, the firm has more than 40 employees and is headquartered in Prague. It brings with it, its fully owned subsidiaries, Servodata, DataScript and S-COMP, which provide strong technology development and training capability.
The firm's key strengths in management consulting and corporate finance have ensured its rapid growth in a strategic Central European location, attracting a client mixture of medium-sized entrepreneurial and growing businesses, alongside large corporate clients. Moore Global will support the firm's ambitious plans to develop full-service capability within 12-18 months. Key sectors served include energy, healthcare, public sector and automotive, as well as aviation, telecoms and real estate.
Welcoming the firm to the network, Moore Global CEO, Anton Colella, said, "This is a firm with strong ambition, supported by a track record of effective delivery and growth. Their focus on consulting is attractive at a time when clients face greater complexity and increasingly need professionals who can offer compelling, broad business solutions. Petr and Radovan have built a business capable of meeting and exceeding these needs. I am confident that their addition to the Moore Global network will support our strategy for Europe and beyond."
Petr Kymlicka and Radovan Hauk, the firm's Senior Partners, said, "We are delighted to join an ambitious global network, which can support our firm to meet our ambitions, as we seek to extend our consulting capabilities alongside developing full-service capability. We are targeting growth not only in the Czech market, but also through collaboration activities with fellow Moore member firms in Europe and beyond."

About Moore Global
At Moore, our purpose is to help people thrive – our clients, our people and the communities they live and work in. We're a global accounting and advisory family of over 30,000 people across more than 260 independent firms and 110 countries, connecting and collaborating to take care of your needs – local, national and international.
When you work with Moore firms, you'll work with people who care deeply about your success and who have the drive and dedication to deliver results for you and your business. You'll have greater access to senior expertise than with many firms. We'll be here for you whenever you need us – to help you see through the maze of information, to guide you in your decisions and to make sure you take advantage of every opportunity. To help you thrive in a changing world.
Contact details
Jonathan Milne
Director, Communications & Marketing
Moore Global
jonathan.milne@moore-global.com
M +44(0)7464981395